Welcome To Realsimracing
Underdog Duncan wins at Daytona
2017-02-25 06:28:20 - Posted By: Chad Cole


Unlimited breadsticks for everyone! KC Duncan and his Olive Garden hot rod pulled off one for the ages Friday night at Daytona. It was the Cole and Coleman show for the majority of the night, but when the chips were down, the #71 made his move. In a three lap shootout, Duncan used pushing help from Skyler Shackleford to beat Chad Coleman at the line by 0.05 seconds. It is Duncan's first Real Sim Racing win.
Back to Back for Kelley
2017-02-23 17:33:06 - Posted By: Joey Gattina
The 2017 =RSR= Winston Cup Series kicked off the 18 race schedule on the high-banks of Daytona. It was the #3 of Tim Mathews and defending series champion Chad Coleman brought the field to green. The race would see mostly green flag conditions for most of the race's first half of action. The #91 of Doy Woods would set the pace leading most laps with 34 to his credit. In the end, it would come down to the #91 of Woods making contact with leader #51 Keith Medeiros that would take out multiple competitors. It would all come down to defending Daytona Champion Mike Kelley and defending series Champion Chad Coleman for the win. The race would be decided off turn 4 coming to the checkered flag when Coleman would lose gas pressure and the #24 would go back to back in the series opening race. Next week the series heads to Las Vegas for the Sam's Town 100.

1. Mike Kelly
2. Doy Woods 
3. Chad Coleman
4. Cody Welker 
5. Seth Fouty 
Full Throttle Cup PRESS RELEASE:Tuesday, February 21, 2017
2017-02-23 17:23:34 - Posted By: Joey Gattina
PRESS RELEASE: Tuesday, February 21, 2017 
Daytona International Speedway, Daytona Beach, FL.
SEASON PREVIEW; TOP 5 THINGS TO WATCH IN 2017
As Monster Energy NASCAR Cup Series rolls through Speedweeks 2017, we as well in the Real Sim Racing Full Throttle Cup Series presented by Gary Mercer Trucking roll through our version of Speedweeks, virtually. No matter it is on the track "in real life" or "virtually", there is no question that the competition levels in both series are at an all-time high as excitement floats throughout the garage stalls as the new season approaches. Here are the "Top 5" things fans and competitors in the RSR Full Throttle Cup Series should look out for in 2017.

Filling the Void: As the new season approaches, our series is missing some big names, two of which were in the "Final Four" at Homestead this past November. Both defending series champion Scott Eckrich and a driver who never lacked an exciting moment, Daniel Eberhardt do not appear to be contending for the 2017 points title. Will names like Vincent and Washington take over the reins of the series? What about Mike Kelly, Kyle Taraska, two of the more consistent drivers of 2016? Regardless, there is a huge window of opportunity for success and it starts this Monday at Daytona.

Rookies Driving Rockets: The name Brandon Buie may be a household name throughout the iRacing.com service, but he has not been very well known in the Real Sim Racing world, until yesterday. Buie made a huge statement by not only winning the Daytona 250 Pole Award but backed it up by winning his 75 Mile Duel Qualifying race as well. Throw in another known name throughout the iRacing.com service, Jason Jacoby, with his impressive sim racing rig, or our own Austin Coop stepping out of the booth and onto the track full-time in 2017, maybe it is one of these names that will "fill the void" as we head into the new season.

New Aero Package: As iRacing.com continues to stride itself as the most realistic motorsports simulation on the planet, everyone within the virtual stock car racing World is fully aware that changes are coming. With a smaller spoiler, splitter, and as well as other changes to decrease the amount of downforce created by cars in the Monster Energy NASCAR Cup Series, it is fair to assume those changes will soon be simulated with our iRacing.com NASCAR Cup cars. However, when those changes will come are still unknown. For now, the RSR Full Throttle Cup Series will continue to run the 2016 Aero Rules Package, but you can bet once teams receive the new 2017 Aero Rules Package, that will sure throw a curveball at all drivers within our series.

Longer Schedule: Per the driver's request, this year's RSR FTC schedule will be longer, and include more races than years past. With 35 races year and a (potential) new points scoring format, the complexion of how this year's championship battle plays out may much different from seasons past. However, there is still a Chase Elimination system and races need to be won, but it is always interesting to wonder how races may play out differently in 2017.

"Real Life" Experience: After running part-time last year, ARCA Racing Series presented by Menards driver Joey Gattina will return to RSR FTC full time in 2017. Also returning to the series this year is staple RSR driver and NASCAR Camping World Truck Series competitor Scott Stenzel. After making the Chase for the Championship in 2015, Scott had a rather disappointing season racing in RSR FTC in 2016. However, Stenzel enters 2017 as a new dad to a beautiful girl, and a fresh perspective towards racing. It is fair to say we can expect him to get back to competitive form in 2017, starting at Daytona. It is also important to note that Christopher Hurlow took part in a Richard Petty Driving Experience test at Charlotte Motor Speedway this off-season, as he looks to further his professional stock car racing career. Kyle Taraska will also be entering his rookie season competing in the ATQMRA this year on a part-time schedule for the Metz Driver Development Program Racing Organization.
Buie and Taraska kick off 2017 with Duel Wins
2017-02-21 05:38:10 - Posted By: Joey Gattina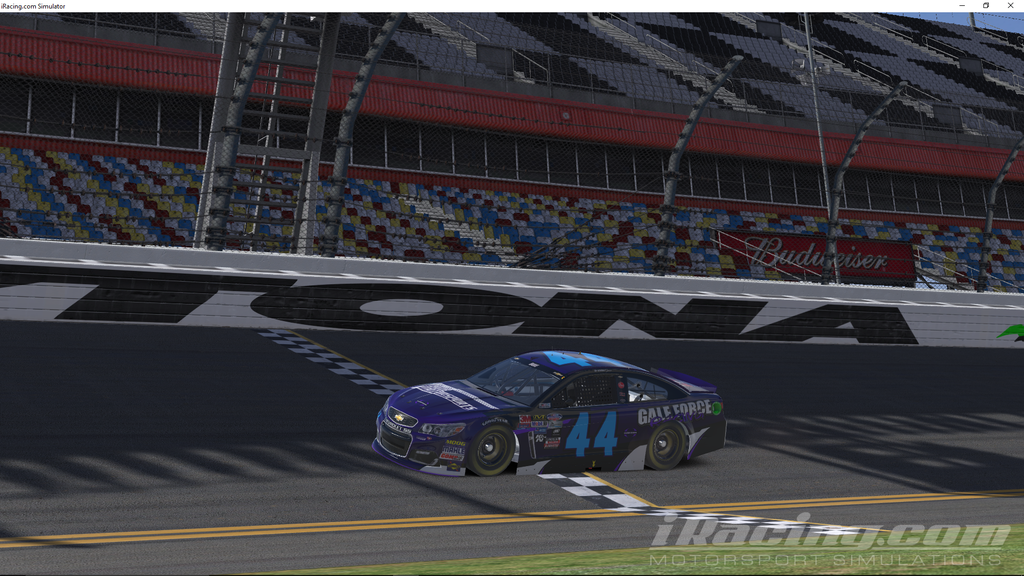 ROOKIE BRANDON BUIE WINS DAYTONA 250 POLE AND DUEL RACE ONE;  KYLE TARASKA WINS DUEL RACE TWO
It was a historic evening on the high banks of Daytona International Speedway as RSR Full Throttle Cup Series presented by Gary Mercer Trucking rookie Brandon Buie claimed the pole position for next week's 6th Annual, RSR Daytona 250.
Brandon edged out last year's pole winner, Tim Mathews, who qualified in the second position, locking him into a front row starting position for this event for the second year in a row. Brandon rocketed around the 2.5 mile speedway at an average speed of 190.274 MPH.
As the sun set over qualifying, the stars came out at night as we set the remainder of the starting positions via the Daytona Duel Qualifying races. In Duel race one, #44 Brandon Buie backed up his pole position lap by winning his race, truly solidifying himself as a contender for next Monday's race.
The second duel race was tamed by sophomore driver #88 Kyle Taraska, after working the outside lane to grab the lead and keep it as the field approached the halfway point of the 30 lap, 75 mile race. Kyle will be starting the RSR Daytona 250 from the outside of row two next Monday.
Joining the series again this year will be LSRTV, The Voice of Sim Racing. From Daytona to Homestead, every RSR Full Throttle Cup Series will be broadcasted flag to flag throughout the season. Catch all of the action from the series season opener, Monday February 27th at 9:30 PM EST. For more information regarding all broadcast schedules, visit www.livesimracing.com.
Comstock stays hot with Chicago win
2017-02-18 09:12:14 - Posted By: Chad Cole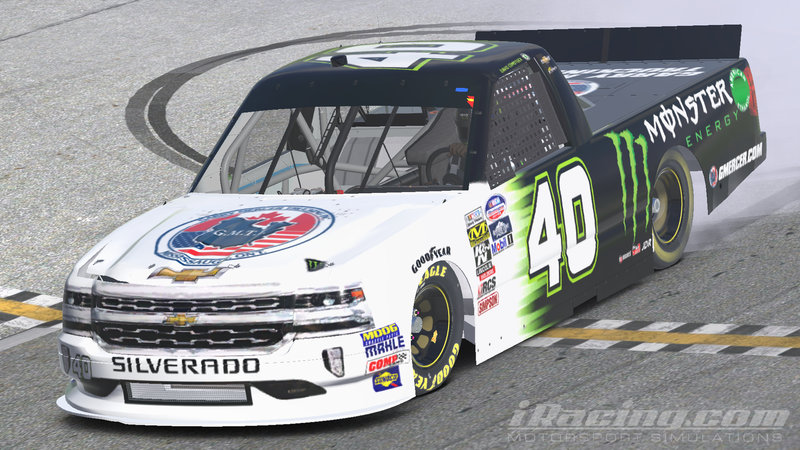 David Comstock has been a roll recently and Friday night was no exception. After taking the checkers and the Ice Breaker championship at Homestead, Comstock picked up where he left off by earning the pole for Friday's Midnight Thunder race at Chicago. But, it wasn't always smooth sailing for the #40. After leading the first seven laps, challenges from EJ O'Rourke, Parker Kligerman and Chad Coleman had Comstock out of the top-five early in the running. Long runs would pay dividends for Comstock and just after the halfway point he retook the lead from the aforementioned Chad Coleman. Green-flag pit stops took place with 26 laps to go and it was Coleman who snagged the lead back with a two-tire stop. His lead didn't last long, however, as the #40 of Comstock caught and then passed Chad for the lead with 15 to go. A caution with three laps remaining would seal the deal for the #40.